Three links are also called three-way joints, three-way joints, three-way joints, and so on. It is mainly used to change the direction of the fluid used for the main pipe branch pipe. It can be classified by pipe size. Commonly used carbon steel, cast steel, alloy steel, stainless steel, copper, aluminum alloy, plastic, argon leaching, PVC and other materials.
Two Methods of Steel Pipe Tee: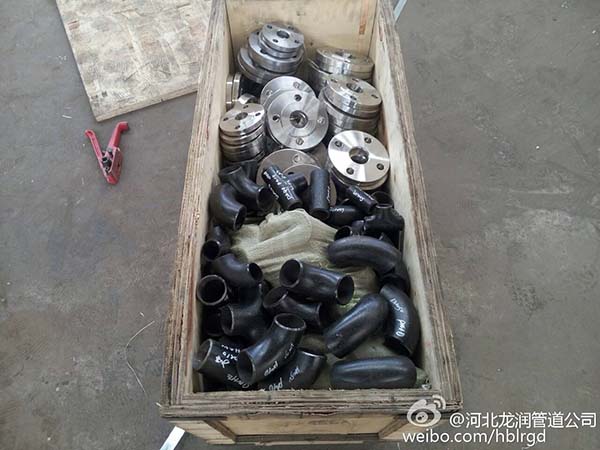 1.Hydraulic bulging
The hydraulic bulging of the tee is a molding process for expanding the branch pipe by axial compensation of the metal material. Procedure synchronized small size, inner tube with moving side cylinder tube, extruded tube with two horizontal hydraulic press machine, injected liquid equals the inside diameter of three-way pipe, special hydraulic machine The three-way branch pipe is used, the pressure required for bulging, the role of dual metal material bulging in the manifold cylinder, the volume of the liquid pipe when it reaches the pressure of the fluid on the inner pipe side flowing along the mold cavity , A small pressure rise.
The three-way hydraulic bulging process can be formed at once, the production efficiency is high, the thickness of the three-way main pipe and shoulder wall increases.
It is currently mainly used for the production of standard thick tea smaller than DN 400, in order to mass-produce the seamless tea hydraulic bulging process necessary for the process. Suitable molding materials are low carbon steel, low alloy steel and stainless steel which tends to be relatively cold work hardening including nonferrous metal materials such as copper, aluminum and titanium.
2. Hot press molding
Three-way hot press molding is a process of flattening a billet having a diameter larger than the diameter in three directions to the diameter of T.
Cold pull 3 links
Cold pull 3 links
Tension load on the heating tube and die manifold tube to the mold; compressing under the pressure the radial compression tube under the branch pipe part drilling and piercing, radial compression In this process, the metal flows towards the branch pipe Form a branch pipe under the flow, mold drawing. The entire process is formed by a radial compression of the tube blank and an extension process of the branch portion. The tee hydraulic bulge differs, the three way branch pipe hot metal is made by tube compensation radial motion, which is also called radial correction processing.
The use of heated tea reduces the number of tons of equipment required for material molding. Hot tea wide adaptability to low carbon steel, alloy steel, stainless steel material, wide eccentricity of the tee, especially the large diameter and wall thickness, usually the molding process.
our company provide
seamless carbon steel pipe
,if you need that pls contact us.