welded pipe eccentric reducer
is also called reducer, steel pipe made by welding steel plate or steel strip after crimping. Welded steel pipes have a simple manufacturing process, high production efficiency, many varieties and specifications, and little capital investment, but general strength is lower than seamless steel pipes.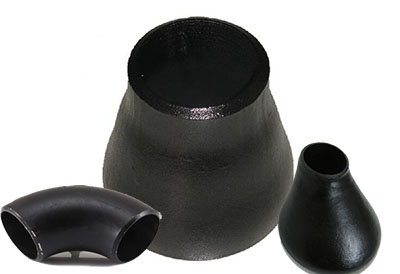 So with pipes we use common materials: Q235A, Q235C, Q235B, 16Mn, 20 #, Q345, L245, L290, X42, X46, X60, X80, Cr13, 1Cr17, 00Cr19Ni11, 1Cr18Ni9, 0Cr18Ni11Nb.
Steel plates or strip welded steel blanks are used, as the furnace is divided into different pipe welding process, welding (ERW) pipe and automatic arc welding. For different welding configurations, it is divided into a straight seam welded pipe and a spiral welded pipe. Because of its shape, it is divided into round welded pipe and special shaped (square, flat, etc.) welded pipe. The welded pipe is divided into the following varieties because its materials and uses are different.
GB / T 3091-2008 (steel pipe welding low pressure fluid): It is mainly used to transport low pressure fluid, is generally to heat water, gas, air, oil and hot water or steam pipe and other uses. Its typical material is: Q235A grade steel.
GB / T14291-2006 (Mine Liquid Welded Steel Pipe): It is mainly used for shaft excavation pressure air, drainage and exhaust gas excavated with straight seam welded steel pipe. It stands for material Q235A, B grade steel.
GB / T 12770-2002 (Stainless steel welded steel pipe for machine structure): Mainly used for machinery, cars, bicycles, furniture, decorative hotels and restaurants, other mechanical parts and structures. Representatives of materials 0Cr13, 1Cr17, 00Cr19Ni11, 1Cr18Ni9, and Cr18Ni11Nb.
GB / T 12771-1991 (stainless steel welded steel pipe for fluid transport): It is mainly used for transporting low pressure corrosive medium. In addition, representative materials for setting 0Cr13, Cr19Ni9, 00Cr19Ni11, 00Cr17, Cr18Ni11Nb, 0017Cr17Ni14Mo2.
Otherwise, the decorative stainless steel pipe (GB / T 18705 to 2002), the construction welded stainless steel pipe (JG / T 3030 to 1995), and the heat exchanger welded steel pipe (YB 4103 - 2000) are welded.